The 32nd Biennial Hoelscher – Buxkemper Reunion was held June 25 and 26, 2016 at the New Braunfels Convention Center.  About 500 people attended the 2 day event.  On Saturday activities included Silent Auction, Domino Tournament, children's area.  After supper,  The Czechaholics played for the dance.   The Display room was open both Saturday and Sunday.  In the display room, the memorial for deceased members was displayed.
On Sunday, Retired Bishop of Dallas, Most Rev. Charles V Grahmann presided at mass.  After mass the family gathered for a panoramic photo by Loudermilk Panoramics.  The family meeting started after dinner was enjoyed.  The raffle winners were announced.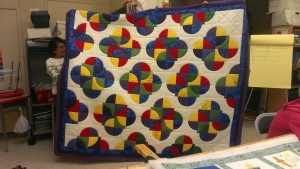 The raffle winners were:
Family Colors Quilt  – Charlotte Spense
Tree of Life Afghan – Johnnie Hoelscher
Quilt Rack – Barbara Fuchs
Gift Card – Amy Griffith
HB 2003 Book – Jennifer Henneke and Sharon xxx.