Listing of interesting places to the family.
Hoelscher Haus  – located in La Grange, TX  on the grounds of the Texas Czech Heritage and Cultural Center, Inc.   It houses the Polka Lovers Club of Texas Museum.  In 2005 Esther and Henry Hoelscher donated the home to the museum.  The home was built by Anton Hoelscher Jr.
Anton Hoelscher Sr Historical Marker – Directions to Gravesite:  From Ellinger on FM 2503 about 6 miles turn left on Wechecta Road, travel about 2 miles and Historical Marker will be on the right.  Actual Grave Stone is on private property up the hill.  This Historical Marker has been taken.
GRAVE SITE OF ANTON HOELSCHER, SR.    ANTON HOELSCHER SR. AND WIFE, KATARINA, ACCOMPANIED BY SONS, ANTON, JR., JOSEPH, WILHELM, BERNHARD, ET AL, IMMIGRATED TO TEXAS FROM OLFEN, GERMANY, IN 1846. UNABLE TO REACH THEIR LAND GRANT IN MCCOLLOUGH, COUNTY BECAUSE OF ITS OCCUPANCY BY THE FIERCE COMMANCHE INDIANS, THEY LANDED HERE IN EHLINGER.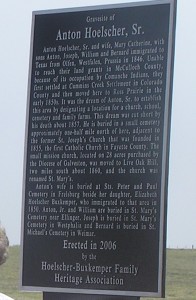 THE DREAM OF ANTON SR. TO ESTABLISH THIS AREA DESIGNATING A LOCATION FOR A CHURCH, SCHOOL, CEMETARY AND FAMILY PLOTS WAS CUT SHORT BY HIS DEATH IN THE 1850'S. HE IS BURIED IN THE DESIGNATED CEMETERY PLOT ABOUT ONE-HALF MILE FROM HERE. HIS WIFE, KATARINA IS BURIED AT STS. PETER & PAUL CEMETERY IN FRELSBURG BESIDE HER DAUGHTER, ELIZABETH. ANTON, JR., AND WILHELM ARE BURIED AT HOSTYN HILL IN ST. MARY'S CEMETERY NEAR EHLINGER. JOSEPH IS BURIED IN WESTPHALIA, FALLS COUNTY. BERNHARD IS BURIED IN WEIMAR, COLORADO COUNTY IN ST. MICHAEL'S CEMETERY.  ERECTED IN 2006 BY THE HOELSCHER-BUXKEMPER REUNION COMMITTEE
Elizabeth & Theodore Buxkemper Historical Marker   – located at their homestead. The homestead is owned outside of the family.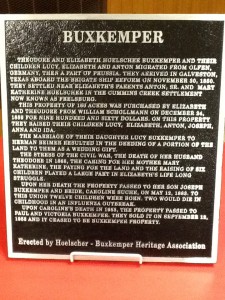 Anton Hoelscher Jr – homestead of Anton Hoelscher Jr is owned by descendants of Anton Jr, the Henry Hoelscher family.  They have preserved the orginial log cabin under a barn.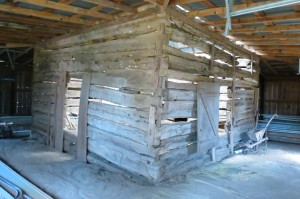 Family sites in Germany  – Olfen, German - much of the city was bombed in WWII, so much of the city as it was when the Hoelscher lived there is gone.  The Buxkemper home is still on the farm with some old barns.  The farm and home of Elizabeth Bruse, wife of Anton Hoelsher Jr, is still a very active dairy farm owned by descendants of Elizabeth Bruse's brother.